Posted by Dom on 18th Jun 2014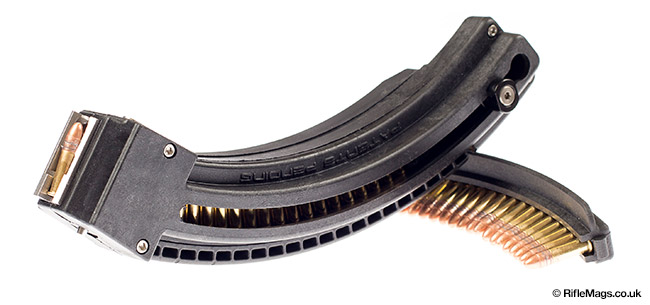 Just when we thought Ruger magazines couldn't get any better with the uber reliable Ruger BX-25 some clever guys from Alaska have come up with a real bar raiser of a 10/22 magazine, awash with features.
There have long been aftermarket hi-cap magazines around for the 10/22, due to original design man Bill Ruger refusing to build any for the rifle on principle, famously stating "No honest man needs more than 10 rounds in any gun."
Whoops. With US shooters loving their big capacity mags the burning desire for a 10/22 one was picked up by the likes of Butler Creek, Champion, Shooters Ridge and American Eagle.

However, these have always been a bit well, lacking. Made of impossible to strip and clean moulded plastic, far from ideal with a filthy round like the .22LR cycling away above.
They also often had feed issues, care of plastic feed lips, lug pins and varying feed angles which made them hit and miss to use, though many have introduced metal lips in recent years. Some 10/22s would love 'em, some not. We've owned, shot and broken plenty over the years. However, there were clear design shortcomings, which were preying on the minds of our design minded shooters in Alaska.
Ruger finally started work on their own 25 round magazine a few year after the death of Bill Ruger in 2002, as well as their own range of AR-15s. In 2011 they released the BX-25, a 'just as reliable as the 10 rounder' fully strippable magazine using the same steel feed as the standard rotary magazine, with an easy to strip casing. It wiped the floor with the competition, fast becoming a best seller.
Now, while the Ruger BX-25 is a fine bit of kit and super reliable, it is a bit of a pain to load if you are burning through the ammo. So, the arrival of the HC3R with a new 25 round magazine complete with full length tension button for easy loading was very welcome.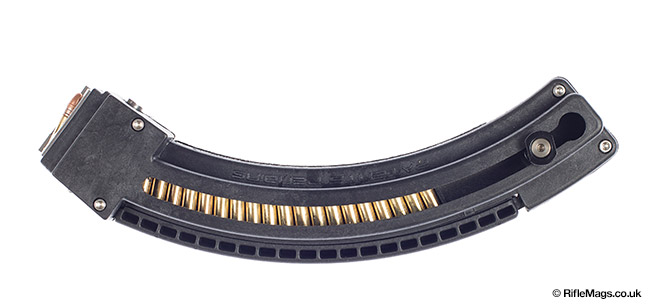 However, when you hold the HC3R in your hands you realise easy loading is just the tip of the Alaskan iceberg, with a host of nice features:
Full length thumb tension button - a nicely put together alloy thumb button which you can lock off at full extension.
Stainless steel feed lips - all the lips and lugs are made in durable stainless at the correct feed angle.
Resin composite build - they've produced it from a very durable resin material rather than plastic, no risk of cracking on range floors with these. We threw ours across the car park a few times without issue.
Fully strippable - you can take the whole thing to bits via four stainless hex screws, magazine cleaning is an essential task to maintain reliability if you are blazing through ammo plinking.
In themselves these are nice features but the real head turner is it is stripper clip compatible! Which anyone who has shot military rifles will appreciate.
Stripper clips - lock off the tension button and you can whip out the rear rib of the magazine which is actually a 20 round stripper clip, allowing you to quickly swap in a new one. You can then top up a further 5 to full capacity as required. You get another stripper clip with the magazine.
Ammo pocket - adjacent to the magazine stripper clip is a pocket holding 20 rounds, allowing you to scoop up the lot with the stripper clip once empty, then just reinsert. So you have a total of 45 rounds onboard.
With the addition of some spare stripper clips and their simple speedloader box you can have a plinking production line running to keep your 10/22 blazing away all day long.
It is without a doubt the easiest and fastest way to reload and run a 10/22. HCMAGS named it HC3R to stand for High Capacity Rapid Rifle Reload and we can see why.
Naturally we had to stock them, after getting quite excited when we landed a test one last year.
To get a better idea of how they work, check out the youtube review below.