Posted by Dom on 7th Jun 2021

As CZ 511 owning shooters we decided to embark on a quest to develop some compatible magazines.
The CZ 511 and it's straight stocked cousin the CZ 581 have been popular .22 semi-auto rifles for many years here in the UK, featuring impressive accuracy care of a cold hammer forged CZ barrel combined with a neatly machined and easily stripped all steel action, boasting a fully detachable trigger unit. A lot nicer mechanically than say a Ruger 10/22.
The 511 design is essentially a CZ badged version of the BRNO 581 which has been in production since the late 1950s, so a tried and tested format, with rifles dating back to the start of production still shooting flawlessly thanks to the excellent build quality and barrels.
However, in 2010 CZ wound up production, with the whole line going over to produce the new steel and polymer CZ 512, unusually this also included the machines which made the magazines.
Since then, the remaining CZ 511 and CZ 581 magazine supplies have dried up, becoming a rare find second hand. So much so we regularly come across magazine-less rifles going for peanuts at auction, which is crazy considering the rifle's reputation and collectible status, especially across the pond in the USA.
The 8 round blued steel CZ 511 magazines in question have a unusual wedge shaped horizontal profile, like a long flat bottomed tear drop rather being a regular box design, which has meant adapting other .22 magazines has been a non starter.
So, we've taken up the challenge of getting a compatible replacement made
Register your interest for email updates
Update 07/07/2021

We have had a batch of 50 produced for trials, the follower has taken quite a few revisions to get right on both late 511 and early 581 models.
We are focusing on a 10 round type as this was the most asked for, if successful we will do one to match the original size as well.
Below is a set of our 10 round types ready for testing, note the original format finger plate which houses original format locking plates, the photo doesn't do the bluing justice, we're pleased with it!
So, as per the originals, only a bit longer, plus witness holes.
Fingers crossed we should have some generally available later in the year.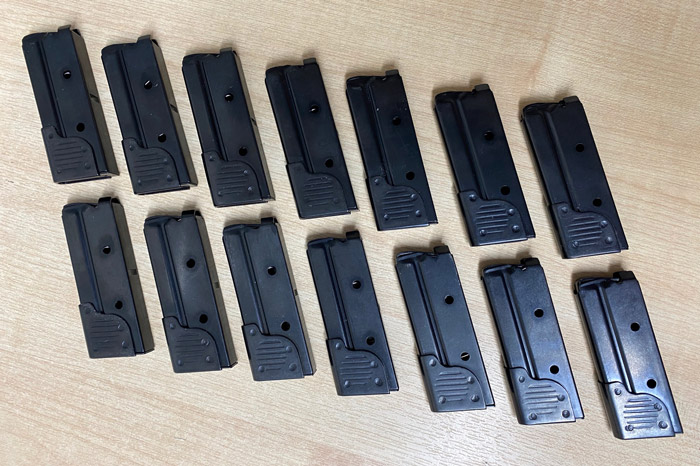 Update 03/11/2020
A small batch is now in production with some final (hopefully) amends to the follower design and front bullet window, once we get them it will be straight into field trials. Fingers crossed.
Update 03/08/2020
The project is still active but with recent events production and development schedules have disrupted. We have three modifications to the lips and follower in for production tooling amends. With a bit of luck those should be the final revisions and we can have some pre-release versions out for customer testing before the end of the year.
Update 21/08/2019

A year on from our last update we're pleased to report some progress. The cross section profile and lips have been revised and variant testing of three different sizes is underway, an 8 round original size, plus 10 and 12 round versions.
The three sizes are currently in testing, looking good so far, only one amend required to cater for CZ 511 models which have a slight difference to their feed ramps.
There will be another pre-production batch for field tests and then we will be announcing pricing and opening sales for pre-orders.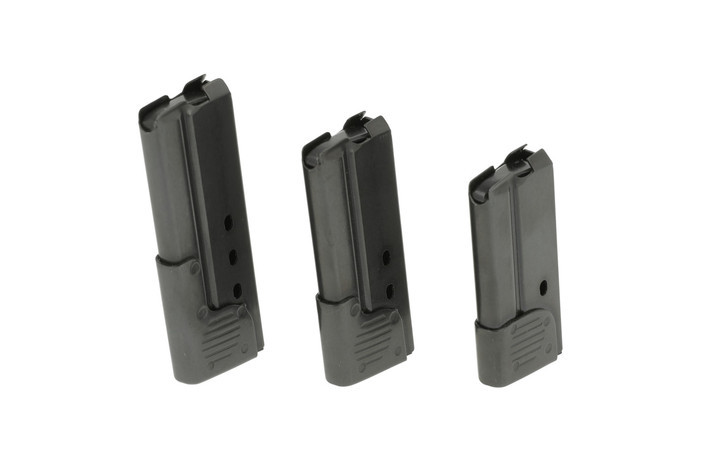 Update 12/08/2018

Testing of the pre-production 12 round prototypes has been completed and final improvements are being worked on now.
Photo below of two of the 12 round magazines we've been running hundreds of rounds through in our late production CZ 511 (bottom) and 1960s BRNO 581 (top).
They are modeled on the original BRNO 581 magazine pattern with revisions so they'll feed equally well with later production 511s. Note the original style grip plate, we're very pleased with how that has turned out.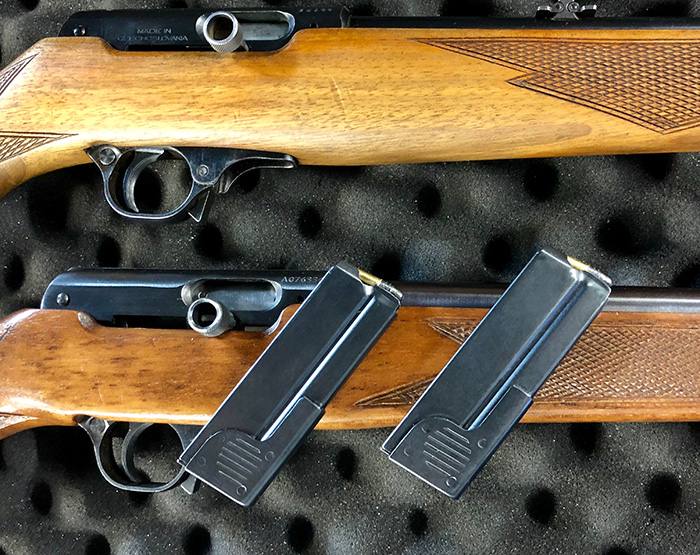 Update 08/04/2018

We're getting closer now, tooling has progressed and the first pre-production prototypes are almost ready for testing.
Below is a quick photo of a 12 round version in bare metal due for testing shortly, note the 581 style lips and the original style grip plate, a 10 round version and an 8 round 'original size' type are also in development.

We may also consider a 16-20 round version later if there is enough demand.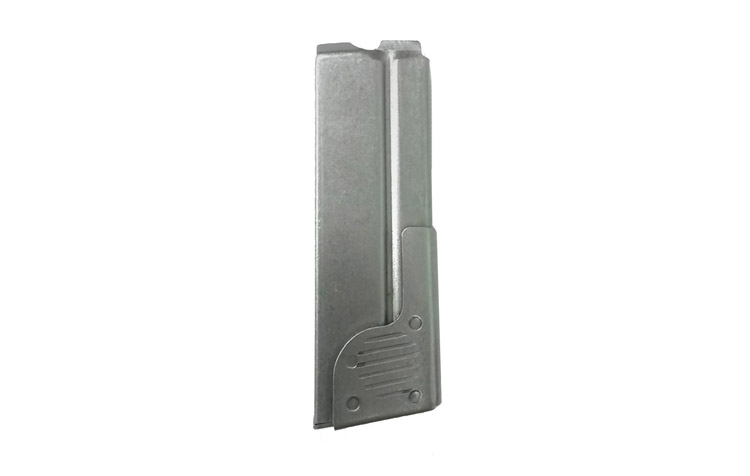 One of the interesting things about this project has been learning just how many stages are required to form pressed steel shapes, particularly relatively complex patterns such as the BRNO/CZ 581 & 511 magazines.
Just like the rifle it's designed to fit, the pattern heralds from the era post war when multiple manual processes and labour time was less of an issue.
Checkout the growing pile of forming tools!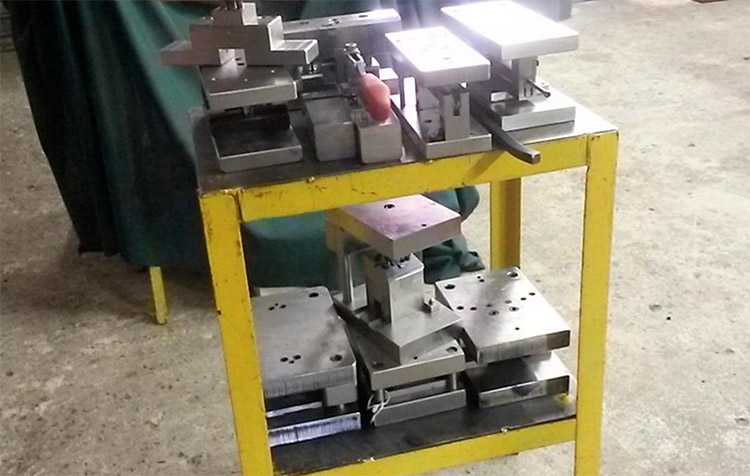 Update 20/10/2017
Production is still delayed pending the arrival of the new 4 axis mill, though expected soon. Once installed production tooling should progress quickly, we'll update as soon as that happens. Meantime, if you haven't already, please register on our email list above.
Update 01/07/2017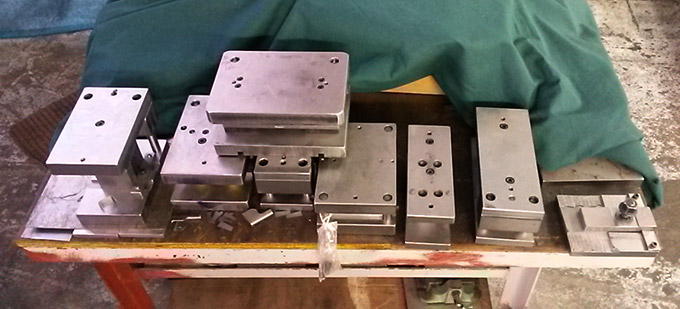 Production tooling development continues (see tooling so far above) though progress has been slower than planned due to some large jobs on the main CNC machine. However, more machines are coming online shortly which should speed things up with extra capacity. Fingers crossed pre-production models will be with us for testing over the summer.
On a separate note, we are currently renovating an early 60s BRNO 581 and some of the rare 16 round magazines to accompany our mint late production CZ 511. It's in good mechanical condition but the woodwork needs some love. Hopefully ready in time for the pre-production magazines.
Update 01/05/2017
A working workshop design has been developed at our supplier, they are working on tooling at present. It's a slow process as it's a side project for them but we are looking forward to receiving pre-production versions in the coming weeks.
Update 10/01/2017

We are now working with one of our existing suppliers on a new steel design, which they are working on currently. Fingers crossed on some prototypes by the spring, if they work out then production later in the year.

While we had produced a polymer design last year which had got as far as working 3d printed prototypes, when the option of a blued steel one came up late last year we decided to put the Polymer one on hold as blued steel was preferred in our customer survey. As soon as we have prototypes in we will share some pictures.

Update 01/08/2016
Following testing two rounds of rapid prototyped 10 round designs in the spring the project is currently parked over the summer due to a planned house move and some unexpected surgery for Dom (nothing major, who needs an appendix!). We will be picking up again Sept/Oct with some revised followers and spring shapes.
Update 17/12/2015
We have a working prototype! The first 8 round polymer design prototype has been tested and is feeding nicely with some fettling. A Mk2 10 round version (by popular demand) will be with us in January with some minor improvements. After which we will be looking at production versions all being well.

Update 19/10/2015
Good news and bad news.
The bad news first - following a review with the engineering guys we've been working with we have shelved the steel design, there is simply no way around requiring a multi stage stamping process (as per the original process) for the feed lip geometry required. This is way too expensive in tooling terms for short run volumes.
The good news - we have a replacement, we've teamed up with another firm who produce precision aftermarket parts for the automotive industry, who are happy to take this on as a side project.
Better still, after getting through a lot of coffee with their design team they have now cracked a new design which ticks all the feature boxes. We should have the first prototype available for fitment testing end of the year.
Update 11/06/2015
We've hit a production conundrum with the feed lips, the shaping tooling can't quite get the front guide lips correct. We can fettle them manually to feed but the production process needs to be perfect in volume. We're now investigating a new process for the lips.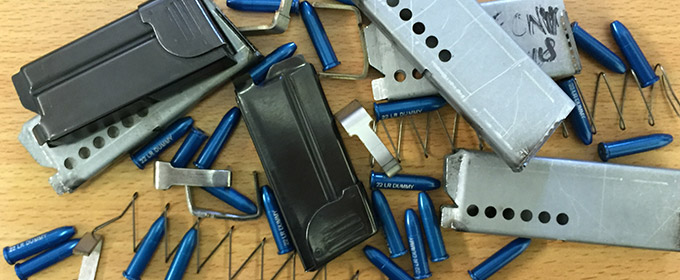 Above: some early Zintec test models without side crimps and base plates, next to some original CZ 511 magazines.

It's been an interesting learning curve on our 511 side project, essentially trying to recreate the 1950s progressive die stamped steel process without expensive die stamp tooling - which wouldn't be cost effective for small short run volumes - using multi-station forming of a laser cut pattern.
We hope to progress the current steel design over the next few months with a new lip forming process, failing that the next option would be to revisit an initial polymer design.
Update 03/04/2015
We've produced a number of 8 and 10 round steel prototypes, getting the feed lips reproduced reliably for a production version is our current challenge.
Update 01/02/2015
We have some revised tooling to allow various magazine tube lengths to be produced, so after an initial size we should be able to produce them in any length if there is demand for longer ones.
Update 10/11/2014
Our first prototype steel magazines tubes have been tested successfully for catch fitment and we are now working on a second round to fine tune the feed lips and followers. We hope to have a final prototype ready for field trials Q1 2015.
Register your interest for email updates