Posted by Dom on 21st Aug 2016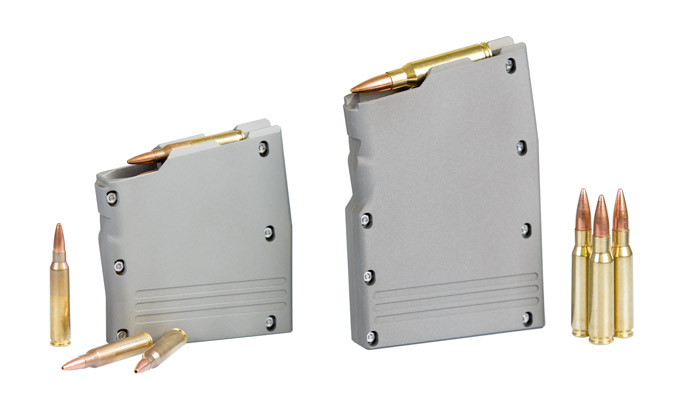 Back in 2014 we first came across an innovative new design of magazines for the Tikka T3.
Finally, a high quality 10 round version of the single stack T3 magazine format which not only upped the capacity on the factory mags, but also offered a much more generous cartridge length for reloaders wanting to use longer bullets.
Now available in our T3 and T3x magazine range
The Tikka T3 has been a very popular rifle down-under, where this design has been developed by Australian international rifle shooter and T3 owner David Waters. From initial designs in 2009 he designed and tested several prototypes, including a sheet steel version, until releasing his first production model milled from aircraft grade aluminium in 2012 which was an instant hit in Australia and New Zealand with target shooters and hunters alike.
Up till then the only way to get 10 round mags on a T3 was to have T3 stocks inlet to take AICS magazine compatible base metal (they are wider magazines), or swap to an AICS magazine ready stock. An expensive exercise.
We managed to source a small batch of the Gen I .223 and .308 10 shot T3 models in early 2015 which proved popular and soon sold out. Meantime, there has been a bit of a wait as David has had some time out with the arrival of new baby son, but in between nappy changes proud dad David has been busy refining the original design through to a new Gen 3 version, from which we've commissioned a special batch.
We're pleased to offer these for under £100 for the first time in both .223 and .308, thanks to larger production volumes and are now the exclusive UK supplier.

With over a 1000 now sold worldwide the design is well established for its rugged reliability. Precision milled from light weight 6061-T aluminium billet (as used for many AR15 receivers) the two halves are hard anodised, which produces a natural grey finish similar to the T3 matte stainless colour.
Hard anodising produces a thicker and more hard wearing oxide finish than anodising with dyes e.g. milspec black. Combining this tough finish with a follower machined from synthetic delrin, a stainless steel spring and all stainless fasteners makes for an extremely durable and weather resistant magazine, which can be easily stripped down for cleaning.
The Gen 3 version offers a number of benefits over the Gen 1 and 2 versions, they are up to 30grams lighter, more compact and feature some subtle improvements to the geometry and the follower design for improved feed.
As shooters of 6.5x55 T3s we are also pleased to report a 6.5x55 version is coming soon, as well as a .30-06 version and some compact five round versions for hunters looking for a high quality alternative to the factory mags.
Update: new batches in a new range of calibres and capacities are expected late June 2017.