Posted by Dom on 1st Jan 2013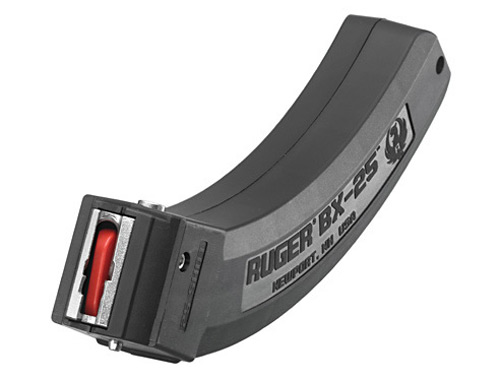 As well as being card carrying CZ shooters here at RifleMags.co.uk we also confess to owning some customised Ruger 10/22s, so the next logical step has been to stock the Ruger magazines we use.
One of the most interesting features of the Ruger 10/22 are the magazines which the system is based on, the success of the 10/22s ultra reliable flush fitting rotary 10 round magazine has made the 10/22 one of the most successful rimfire rifles of all time and a platform for a massive range of customised parts.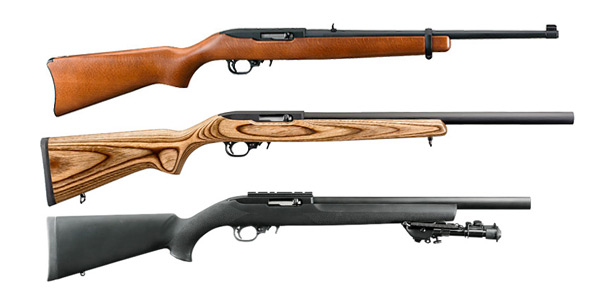 Aftermarket 25 round magazine have been available for the Ruger 10/22 for a number of years and are quite popular, especially amongst mini-rifle and gallery rifle shooters.However, they can be hit and miss in terms of reliability and being made of moulded plastic there is no way to clean them, which is far from ideal when using waxy bullets and a dirty cartridge like the .22LR.
After much poking from 10/22 shooters, Ruger have come up trumps with the Ruger BX-25 for the 10/22 77/22 and SR-22, offering a 25 shot capacity with the same reliability and features as their popular rotary magazines.

So a quick look at what you get:
Stainless steel feed lips – durable feed lips at the correct 30º angle feed just the same as on the 10/22 rotary magaine. We've used all plastic American Eagle and Butler Creek magazines in the past which can start to erode with use.
Constant-force stainless steel spring – it's a round spring just like you get in a tape measure which pulls the follower up to the feed with constant force.
Self-lubricating anti-tilt follower – the red bullet follower is made of a special slippery plastic material which reduces friction as the last bullet is pushed into the breech.
Stainless steel magazine pins – the front and mag pins at the top of the magazine which hold it into the rifle are stainless steel not plastic.
Two-screw disassembly allows for easy cleaning – it's really easy to strip, undo the stainless hex bolts top and bottom and you take it to bits, plus the way the spring is set there is no juggling springs and parts under tension.
Nylon polymer body – the casing is made from a durable polymer, as we've discovered if you drop a full mag on to a concrete floor it won't crack!
So, a lot of good features. They are way more reliable than the Butler Creek 25 round magazines than we were using previously.
For a look at how they work checkout the YouTube clip below from a guy over in the US who demonstrates use with different ammo.